Hi guys,
Wow how can this be the last newsletter of the year?  What a year, I'm sure none of us will forget 2020.
It has been great keeping in contact with so many students in sixth form during lockdown and what I'm always struck by when I'm speaking to our lovely sixth form students is that I'm asking them how they are doing, but every single one always asks me how I am doing and how my world is!  This is such an amazing quality of our sixth form students.  We have known so many of you since lower school and watched you grow and mature into thoughtful and caring young adults.
I think one of the key messages during lockdown has been to check in on each other frequently and see how the people around us are doing and I know how well you have done that.
This empathy and kindness is something for us all to keep passing forward as we continue to support each other and spread happiness, positivity and hope.
I'm touched by all of the thank you's that we have received, but we truly thank you for trusting us and allowing us to support you on your journey.
The counselling service continues to remain open, please just get in touch if we can help you at all counselling@the3rivers.net and we try to spread mindful positivity and mental health updates on our twitter https://twitter.com/t3rcounselling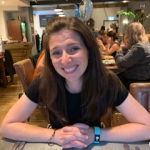 Wishing you a lovely summer.
Sarah (and all the team)