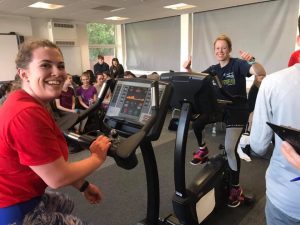 We had a fantastic day with many students and staff cycling for such a good cause.  The support for Oliver from Year 13 was overwhelming, and as Year Leader Ms Familton would like to thank all the students for their kindness, hard work and commitment to the event. We managed to raise £3481, which took the JustGiving page over its £15000 target!
We would like to thank all of the local business who supported us with our fundraising:
Barbour Foundation Jacket, Brook Taverner, Rutherford's, Hooker and Young, The Grand Hotel Gosforth Park Newcastle, Active Northumberland, St Mary's Inn, Morpeth Rugby Club, Wetherspoons Morpeth, Lois Wilkinson Hair and Beauty Morpeth, Moor House Farm Voucher, Head Shed, Healthy Prep Kitchen Morpeth, Cafe Vault Morpeth, Urban Spa Morpeth, Moods Hairdressing Morpeth.
Councillors return to school to cycle for local cause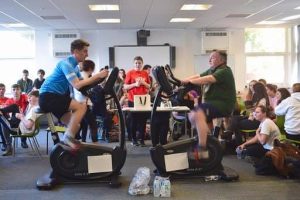 The Mayor of Morpeth, Councillor Jack Gebhard and Councillor David Bawn took part in an all-day cycling event at King Edward VI High School last week to raise funds for a local cause.
KEVI students are raising money to pay for a prosthetic sports leg for Oliver Bultitude who had to have his leg amputated after contracting a serious form of bone cancer called Osteosarcoma.
Events have been held around the county for Oliver's Journey, the name of the cause which seeks to raise £15,000 to pay for a prosthetic sports leg for the seventeen year old. Students at KEVI organised the cyclothon alongside a bake sale and a raffle which raised over £3300 to help pay for the limb which won't receive public money as Oliver will be over 18 when he requires it.
The Mayor congratulated the students for their community spirit and drew the raffle before completing the final lap of the cyclothon event where he competed against Cllr Bawn.
Cllr Gebhard said: "It was really great to take part in this event with the students, and hopefully add a bit of publicity to the cause. Olly is a top lad and I'm sure he'll be keen to get back to his beloved sports as soon as he can.
"The students who organised this ought to feel really proud of themselves as well. Nothing is likely to make the situation easier for Olly but to know he has so many friends who are so keen to help should be really heartening."
"They did really well on the day and the fundraising continues meaning anyone can still help!"
To donate online log onto www.justgiving.com/crowdfunding/fiona-mather
*The above information was taken from the Press Release sent to the Morpeth Herald